About the Craftsman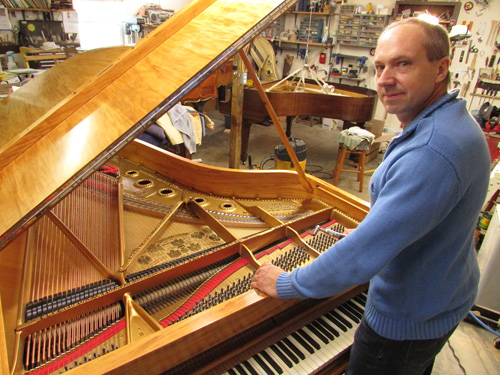 There is a competent, easy to work with craftsman/technician, whom you can trust to remanufacture or restore your cherished instrument. Mark J. Phillips is a second generation piano restoration professional with over 25 years of hands-on experience. He learned the trade as an apprentice from many knowledgeable and skilled professionals. After working with his father for many years, learning all aspects of the trade, Mark moved away from the city to work for a prestigious music center in central Pennsylvania. Before long, his skills were sought after by artists, institutions and other piano technicians. Low overhead and proven techniques combine to provide the highest quality workmanship with affordable prices. Individual attention is given to each piano. One craftsman completes the entire instrument - top to bottom and inside to out.
Each artist and piano is unique: some pianos may not need many parts replaced and the same type or amount of restoration is not needed for each instrument. Damaged case pieces are repaired to leave as much of the original as possible and missing pieces can be replaced with handmade pieces to match. Mark works with other skilled technicians to provide in home services in most areas of the country. In addition to the repair, restoration aims to recreate and meet the original finish or pattern.
The transport to and from the restoration site is handled by professional, insured piano movers. You are in capable hands from start to finish!